About Vedanta Bharati
(Veda-Vedanta Institution Of Studies and Research)
Recognized as a Research Centre by Tumkur University
Established on January 01, 1999.
Sri Shankara Bhagavatpadacharya is one among those who were incarnated to resurrect the Sanatana Dharma. Advaitha is the doctrine rejuvenated by Him. Yadatore Sri Yogandeshwara Saraswathi….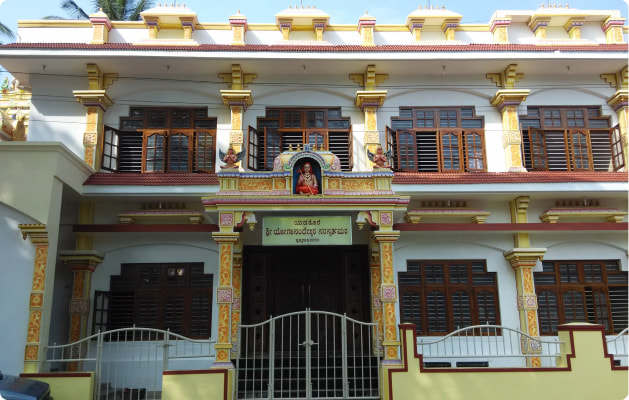 Patrons & The Guiding Lights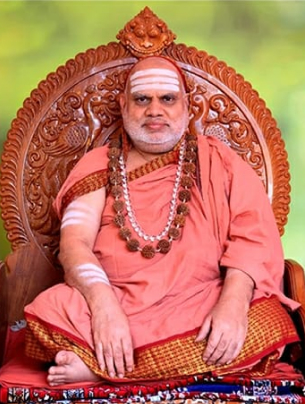 Chief Patron
His Holiness Sri Sri Bharathi Theertha Mahaswamiji
Dakshinamnaya Sringeri Sri Sharadapeetham
Sringeri, Chikmagalur Dist.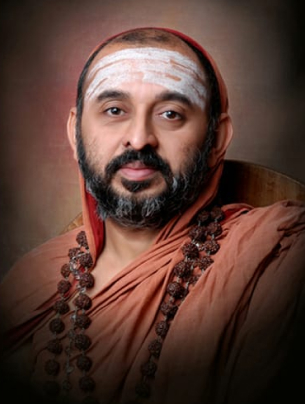 Patron of the Trust
His Holiness Sri Sri Shankara Bharathi Mahaswamiji
Yadathore Sri Yoganandeshwara Saraswathhi Math
Krishnarajanagar, Mysore Dist.
Introduction
Sri Shankara Bhagavatpadacharya is one among those who were incarnated to resurrect the Sanatana Dharma. Advaitha is the doctrine rejuvenated by Him. Yadatore Sri Yogandeshwara Saraswathi samasthanam in Krishnarajanagar, Mysore District on the banks of Kaveri is one of many institutions that follow Sri Shankara's tradition. This institution has been contributory in the Spritual, Religious, Cultural and Social Spheres.
Around 800 years ago, Shri Shri Yoganandeshwara Saraswati Mahaswamiji, a great ascetic and a yogi, established this Math in Krishnarajanagara Taluk of Mysore, on the banks of the holy river Kaveri, to support practice of Vaidika Dharma. The Math came to be called as Yadathore Shri Yoganandeshwara Saraswati Math. Several ascetics of Advaita tradition have decorated the peetha of the Math so far.
The name of Shri Shri Ramabrahmananda Mahaswamiji stands out even among these names, as an accomplished Sadhaka, and a Jivanmukta. His work, the 'Tattvasangraha Ramayana' is an illustration of his erudition. In the fifteenth century, Shri Shri Ramabrahmananda swamiji established a branch of the Math in Holenarasipura, and installed the presiding deity Shri Chaturbhuja Pattabhirama. He also built a temple of Shri Nilakantheshwara. Puja has been offered constantly to both, as though to highlight no-difference between Hari and Hara.
Major Areas of Work
Vedanta Bharati sole vision and mission is the propoganda of Sanathana Dharma and Advaita Philosophy to the world for a better living and spiritual upliftment.
Some more text can go here upto 120 characters
Independent Research (Samshodhana)
Performing – Study and Research of Indian Philosophy (Darshana Shastra), Composition of Advaita Kosha (An encyclopaedia of Vedantic Sentences), Publication of books connected with Vedanta, and associated translation works.
Academic Guidance
Recognized as a research unit of Tumkur University to create opportunities for Ph.D on Indian Darshana and Philosophy.
Renewing the thought
Organizing National level Seminars and Conferences for rejuvenation of Indian schools of thought and Sanskrit.
Campaign on Stotra parayana
Introducing Shankara's Advaita philosophy to common man through Upanyasa Saptahas and Stotra Paryana Mahabhiyanas all over Karnataka- targeted to attain National Integration and Social equanimity.
Remedies to sufferings (Retreat)
Acquainting professionals with methods for Stress management and for Personality Development by organizing Retreat programs based on Indian Adhyatma Shastra.
Morale edifice
Organizing of programs like Viveka Dipini and Vivekotkarshini competitions for training high school students in inculcating the right values in life.
Brainstorming sessions
Preservation of ancient sastraic texts through organizing of periodic programs like Vedanta cintana goshthi, Bhashya parayana satra involving pundits.
Musical Glory
Reaching Shri Shankaracarya's stotras to society by rendering them into classical music.
Board of Trustees
Sri S S Naganand
Senior Advocate
Supreme Court
Sri A Ramaswamy
I.A.S, Principal Secretary (Retd)
Govt of Karnataka
Sri H. Ramachandra
F.C.A,Chartered Accountant
Sri Hariharan & Co, Mysore
Dr. V. R. Gourishankar
Padmashree Awardee, Administrator
Dakshinamnaya Sri Sringeri Sharadapeetham, Sringeri.
Sri Ashok Harnahalli
Former Advocate General
Govt of Karnataka
Dr. P. Sadananda Maiya
Director
Maiya's Beverages and Foods Pvt Ltd., Bangalore
Dr. B. S. Srinath
Managing Trustee
Sri Shankara Cancer Foundation
Sri M. S. Srinivas
Advocate
Bangalore
Sri C.S. Gopalakrishna
Industrialist
Bangalore
Sri HNLN Simha
Industrial Consultant
Bangalore
Office Bearers
Vid M. Shankar Bhat
Honorable Director
Vedanta Bharati
Dr. Sridhara Hegde
Director
Vedanta Bharati